Does your School's Website Reflect its Institutional Story?
Feb 14, 2017
Laura Sheehan
(What Does That Even Mean?)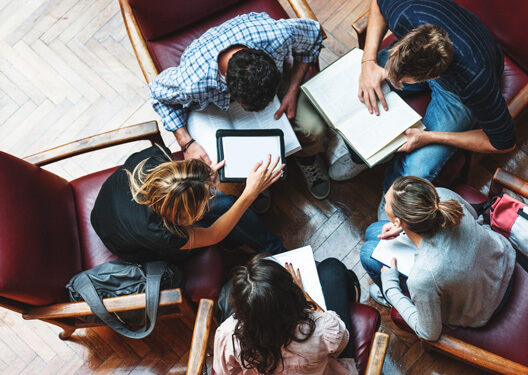 There's a lot of buzz in higher education marketing on the topic of storytelling — and for good reason. Stories offer a memorable way of dispensing information, connecting to others, and influencing purchase decisions. Major brands (like Starbucks and Warby Parker) are adept at using the internet's visual and verbal capacities to share their stories and drive sales. Higher education marketing and recruitment offices needs to do the same — but what exactly does that mean?
Here's What It Is
An institution's story is a brief narrative — 2-3 sentences reflecting its core meaning and purpose. Think of it as the school's "Big Story;" it takes various forms and permeates all marketing materials.
This is your institutional brand, your school's reason for being. It is told through written and taped profiles, testimonials, mixed media, blogs, social media posts, video, etc. — all telling the story of what distinguishes your institution from others, what it does particularly well, and how it affects the lives of its constituents.
The brand is told in segments, through the words and experiences of those who have been transformed by the institution. When identifying the key story, be careful not to replicate the mission statement. Instead, determine the overall impact your school has had on the people who entered its circle — students, alumni, faculty, staff, the external neighboring community. How does your college or university transform lives?
The good news is: by their very essence, colleges and universities tend to have no shortage of dramatic and heart-warming stories. Most, after all, were established for altruistic reasons — to serve and elevate humanity. The not-so-good news: most institutions do not track student/alumni success to this extent, so it requires effort to collect stories. If this is the case, watch for our next post on how to start the process of collecting and embedding stories in a school website.
Why Use Stories?
The "why" is best answered on two fronts: through research on students' college search habits and research on the psychological influence of storytelling. Prospective students (both traditional aged and adults) tell us what influences their enrollment decisions. We know, for example, that 80% high school seniors cite an institution's website as the most influential resource in their college search. We also know that 89% search via search engines, so rarely come through a website's home page. And then there is this: to determine a school's value, prospective students look for the words and experiences of those who came before them — namely, current students and recent alumni.
The psychological power of storytelling is also well researched and defined. As humans, we are drawn to the experiences of others; we remember stories easier than we do facts and statistics. And today's students (Generation Z and Millennials) are especially good at sniffing out institutionalized messaging and jargon. They want to hear real voices and experiences. Keep it simple, keep it authentic.
How It's Done
A community college, for example, might hinge its brand story on the idea of "bridging students to success" via affordable, high-quality programs that place students directly into careers or transition them into 4-year programs. Under that overarching theme are a series of individual stories showcasing key themes like mentorship, faculty support and expertise, internships, career and graduate school outcomes, etc.
The stories need to be strategically placed on the website in order to penetrate its layers and supporting its content. Because a user can (and will) enter the site at any given page, the brand story should be apparent throughout the site through headlines, call outs, sidebars, buttons, etc. Of course, the real work lies in how we collect and present these stories. Our next post will take you through the process of embedding stories into an existing site — in a way that will serve the needs of prospective students while touting the strengths of the institution.