Decision Day and Beyond: How Digital Marketing Can Reach Prospects at Critical Points in the Enrollment Cycle
May 2, 2017
Laura Sheehan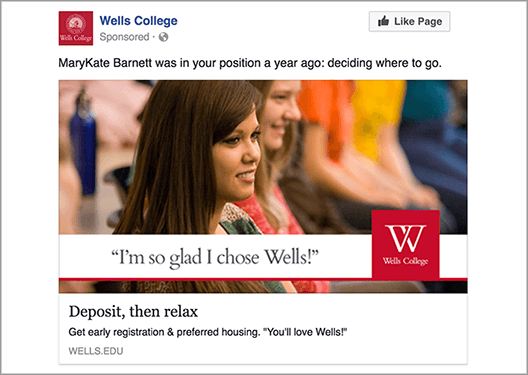 The recruitment cycle is fraught with make-it-or-break-it deadlines, perhaps none more critical than May 1, Decision Day. As prospective students weigh their acceptance and financial aid offers, colleges ramp up communications in an attempt to secure deposits.
Phone calls, emails, and text messages are certainly effective, but only if the student is willing to engage. When they're not, consider a mini digital marketing campaign that:
Targets accepted students
Delivers ads to their social media feeds
Uses peer-to-peer messaging to inspire action (in this case: deposit)
We recently launched a Decision Day campaign for Wells College, a gem of a school on the shore of Cayuga Lake in upstate New York. Our goal was to reach accepted students who, by April 7, had not yet deposited, and get them to do so.
Research shows that prospective students trust their peers more than the institution, so we interviewed current students and used their words to develop the ads. From the ad, the user went to a specifically developed landing page that guided them through a simple deposit process.
From April 7-May 1, we ran 11 ad variations on Facebook and Instagram which led to 7.4% of the accepted students clicking on one of them. Wells extended the campaign and added an incentive: priority housing and early registration. We re-wrote the ads to reflect the incentive and will run this second part of the campaign through May 20.
At this point it's too early to determine the campaign's impact on deposits (and it may be difficult to compare to previous year's due to New York's newly launched free tuition program), but the high response rate is encouraging.
Digital marketing gives us the tools to reach students with tailored messages at specific points of the enrollment cycle. For example:
Early in the cycle: In a fall campaign designed to generate inquiries for the University of Maine, we used demographic and psychographic targeting to create a customized audience that resulted in 20,000 clicks & 558 inquiries.
Late in the cycle: In a late-summer enrollment campaign for Three Rivers Community College, we reached recent high school graduates, their parents, and adult learners with targeted messages that helped close the college's enrollment gap.
Between those two points, of course, exists the bulk of the recruitment cycle, rife with opportunity to reach and convert prospects.