What Can Community Colleges do to Counteract Declining Enrollment? Turns Out Your Institutional Stories are your Best Ammunition
May 6, 2016
Laura Sheehan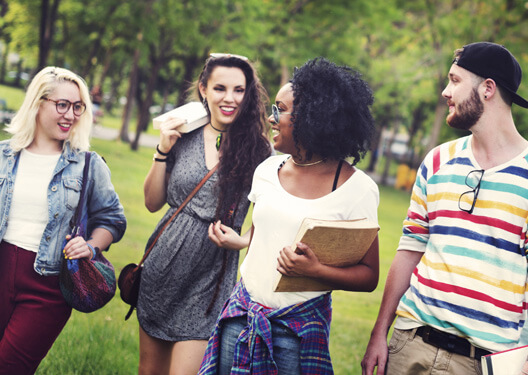 It wasn't that long ago when community college enrollment was flourishing — or so we thought. Yet, a recent article in The Chronicle of Higher Education reveals an underlying long-term decline. In spite of the admissions increase brought on by the recession, community colleges have been steadily losing their piece of the higher ed market: From 40-44% in the period from 1980-2002) to the current 37.9%, an "all-time low."
Why? Carla Hickman, managing director of the research and technology firm EAB, attributes it to the sophisticated marketing and enrollment tactics used by 4-year institutions. I agree. Here, community colleges are at a disadvantage as they often lack marketing staff and resources, but there's no reason they can't adopt some of the more affordable, higher-yielding strategies.
First and foremost, the website
Is it built to market for enrollment? If not, you're losing an enormous lead generator. Yes, website development is expensive, but a site that attracts right-fit students will pay for itself as it brings in high-yield prospects daily. I know of a college site that generated 37% of all its applications in one recruitment year — and those applications had a 54% yield!
Another significant savings: you don't have to re-do the site every few years. When a website has a strong architecture and purposeful navigation, refreshing the look and design becomes a modest project.
Content marketing is all the buzz for a reason: it works!
In its simplest sense, content marketing is truthful storytelling. Start with your top selling points: quality programs, key faculty, affordability — and wrap them in a storytelling narrative — one that is based on a true human experience. Once a bank of content is created, it can be repurposed across multiple platforms (website, print, digital, billboards, etc.).
Easy-to-tackle themes include
Stories of student success and transformation
Student and faculty projects/research/mentorship
Internship and community experiences
Alumni success and support
Go digital!
Market your programs on digital platforms, targeted to the right audience. This is a cost effective opportunity as you can control the spending (pay per click) and adjust the campaign (in real time). To succeed, though, you must know your ideal audience and market on the platforms they visit.
These strategies require time and expertise, of course (high impact marketing is never simple!). To colleges without internal resources, hiring an outside firm is the best option. There are tons of firms out there (I know because I'm one of the many), so be specific in your expectations.
In my days as a higher education administrator, I worked with firms that delivered and with firms that did not. Take a tip from my experience and read "6 Tips to Guide your Decision when Hiring a Digital Marketing Firm." Even if you don't know the industry jargon, you can and should insist on excellence.
One final thought: As the spouse of a community college professor, I see great potential in marketing via these strategies. When I think of the students my husband has taught, mentored and worked with — and their individual stories of triumph — I want to broadcast this success to the world. These are stories that we as humans yearn to hear. So why not make them part of your institutional success?