Looking for Transfers? Here's How to Stand Apart in a Crowded Field
Mar 4, 2019
Laura Sheehan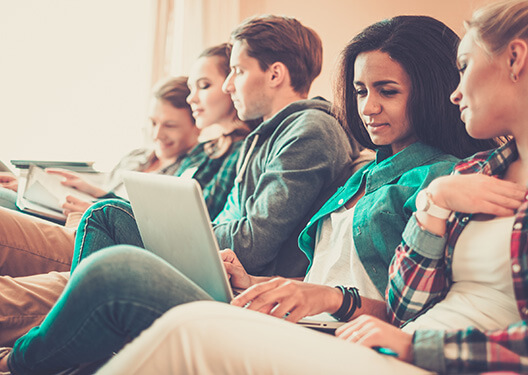 It's transfer season, the time of year when 1/3 of the nation's college students look to switch schools. Studies like the National Student Clearinghouse Research Center's Signature Report estimate that 1.3 million students transfer each year.
One point three million. That's a big piece of the recruitment market. It's no wonder so many institutions have amped up their transfer recruitment efforts. But has it paid off?
It can and it should — provided you can rise above the marketing fray. With so many colleges pursuing the same pool, how can yours stand apart from the competition? More importantly, can a transfer campaign reach those "right-fit" students, the type who will succeed there?
Again, it can and it should. A smart, effective, and affordable transfer campaign is possible. By utilizing digital platforms, you can target right-fit transfer students, engage them with authentic "storytelling" messages, and deliver high-quality conversions to your admissions team. Here's how:
1. Start with what really defines your institution, its Success Story.
This is a body of marketing content that celebrates the school's distinctive success (or "selling") points. These points are identified through institutional research and, most importantly, interviews with students, alumni, faculty, and administrators.
If you know Calculate, you know storytelling is our thing. It lies at the core of all our work ( enrollment-generating websites , recruitment campaigns & publications). Storytelling showcases institutional success through a human framework: the words and experiences of those whose lives have been transformed. On a psychological level, it reveals the deep connections between the school and the students who thrive there. It is authentic, peer-to-peer marketing and it works.
For a transfer campaign, I typically interview 2 current transfer students and 1 recent transfer graduate. Excerpts from their stories, combined with other success points, comprise the campaign's content: text for ads, landing pages, thank you responses, follow up emails, etc.
2. Use the Success Story to build a Social Media Campaign.
In the research and interview phase, 2-3 topics usually present as being particularly meaningful to transfer students. These become the campaign themes; from them the messaging is built, authenticated by student voices.
Calculate's social media transfer campaigns include
3 messaging threads (or themes), such as:

Ease of transfer process/support
Financial aid/transfer scholarship
Outcomes/Success

3 platforms, eg: Facebook, Instagram, Google AdWords
2 Audience Pools: The campaign is directed towards transfer students and their parents. We target via:

Demographic & psychographic strategies
Institutional lists (purchased names, PTK, etc.)
3. Using the same content, build a Programmatic Advertising/Geofence Campaign with the following components
Geofencing to deliver ads to users within a geographic area (typically, 10 community colleges or a specified region)
A multi-layered Impression Retargeting Campaign that delivers ads to users after they leave the fenced area. (Our ads follow the user once they leave the fence, so we can continue to serve ads to them at home on their tablet or laptop)
Data analysis to build additional audiences based on users' behaviors and traits, allowing you to hone in on your ideal prospect
If video is available, you can also run ads on Connected TV
The Good News is …
When put together, these 3 elements succeed by
Reaching the right students (through precise targeting & placement on popular platforms)
Engaging their interests (with relevant, heartfelt success stories)
Inspiring them to take the next step in the transfer process (completing the conversion form)
Additionally, you can repurpose your school's success story a variety of ways: as website content, for recruitment publications, follow-up emails, text messages, postcards, etc.
And it's affordable. If you have the in-house talent to write, design, and build the campaign, the only cost is the media buy. If not, contact us . We can provide all 3 services for a 2-month transfer campaign for $20,000*, which includes the media purchase. See what we did with a 30-day transfer campaign.
*Recommended amount; adjustable to smaller budgets