The Bountiful Underside of Digital Marketing
Jan 23, 2017
Laura Sheehan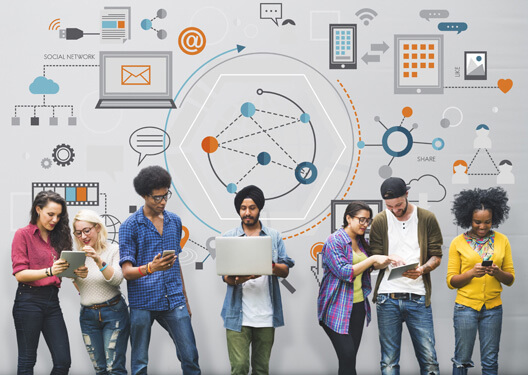 Want an enrollment campaign that keeps on giving? Go digital. In addition to the many obvious reasons why college and universities should be recruiting online, here's another:
Digital enrollment campaigns (when done right) fuel all other online recruitment investments — most notably, an institution's website and social media presence.
A smart digital campaign captures an institution's success story and key selling points. It disseminates this message in ads (typically on Facebook, Instagram, Google, etc.) via strategically crafted language and visuals. The audience is highly targeted (based on demographic and psychographic traits), making for a strong click through rate.
When a user clicks on the ad, they go to a landing page where they are (hopefully) inspired to fill out a conversion form. Not everyone does, of course, and herein lies the "bountiful underside."
As an example, here's a campaign we recently concluded for a community college: It ran from November 9-December 9 and was the college's only enrollment campaign at the time. Ads ran on Facebook, Instagram and Google AdWords. At this point in the recruitment cycle, community college students are still in the "shopping" phase (generally speaking), so we reached them on the themes of quality, affordability, and outcomes of success.
We targeted traditional-aged college students, their parents, and adult students. Over the 30 days, the campaign delivered 887,550 impressions, reached nearly 64,000 unique users, generated 2,327 clicks and 60 conversions. Of course, the conversions matter most: 60 highly interested (e.g., targeted) users completed the campaign's inquiry form and entered the college's admissions funnel.
But what happened to the other 2,267 people who were interested enough to click on the ad, but not fill out the form? We cannot track them individually, but a deeper look at the institutional data shows us their continued interest:
Inquiry forms on the institutional website grew 14% during the life of the campaign
Website referral traffic (from the social media platforms hosting the campaign) increased by 192%
These referred users spent 118% more time on the site and visited more pages per session (+27%)
The college's Facebook fan base grew 7% during the campaign
The ultimate assessment comes at the start of the new academic year when we can assess how many of the 2,237 users who were interested enough to take action, enroll. For now, these indicators show the campaign's success in identifying, reaching, and engaging right-fit students.