Enrollment Success During COVID
Mar 12, 2021
Laura Sheehan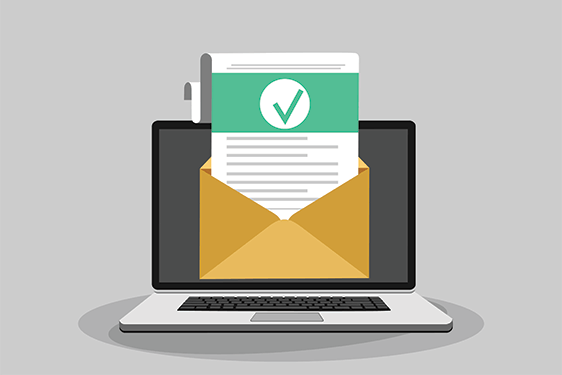 I want to share this particular digital recruitment campaign for two reasons: its success in delivering leads and what it says about messaging. First, an overview:
The University of Saint Francis has its main campus in Fort Wayne, along with a regional site in Crown Point, IN. The latter, USF Crown Point, offers the following associate-level health care degrees: nursing, surgical technology, radiologic technology, and medical laboratory technician.
In September 2020, USF Crown Point broke ground on a new building project. The university was expanding its facility and programs for the 2021-2022 academic year. Calculate was hired to develop a lead-generating campaign that would:
Target and reach traditional-aged students, their parents, and adult learners
Showcase institutional and personal success
Deliver leads to the admissions team
To write the campaign, I focused on 5 themes: the expanded facility and the 4 academic programs; each theme incorporated sub themes of affordability, career success and earnings. I also interviewed 7 current or former students for storytelling content.
The campaign launched in November and is still running. Tactics include SMM (Facebook, Instagram), SEM (Google), Data targeting/geofencing, impression retargeting, and website retargeting.
Results to Date
As of June 15, 2021, applications and deposits up 73% from the previous year. Five months in, the campaign has yielded:
1.9 million impressions
425 direct conversions (completed forms & phone calls)
710 indirect conversions (clicks to Apply, logo, sitelink, location/directions)
Every day, two or three direct leads hit the admissions inbox: these are forms completed by prospective students in response to the campaign. The indirect conversions are plentiful, but difficult to track because platforms have recently imposed restrictions on the information available to marketers).
Indirect conversions are actions users take after they get to the landing page and include: clicks to the apply page, the homepage, and driving directions/location details. For context: a similar size campaign we did for USF before the restrictions were put in place included 1,189 indirect conversions.
Messaging 
The right message at the right time makes a difference. Just as USF Crown Point was expanding, COVID-19 hit. We knew the country was headed for a difficult time and considered the impact on students. The economic challenges could be a motivating factor, so we focused the messaging on:
Timing (a 2-year program will get you in the workforce sooner)
Earning potentials in the region
Quality and success of programs (high employment and pass rates)
Personal testimonials for authenticity
Here's a look at 3 pieces:
This top performing ad for adult prospects, targets LPNs. Salary potential and the 3-semester duration are a draw.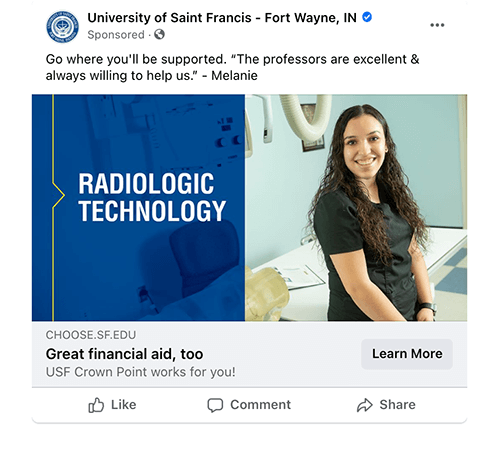 This ad targets traditional aged students for careers in radiologic technology; it highlights support (via storytelling) and affordability.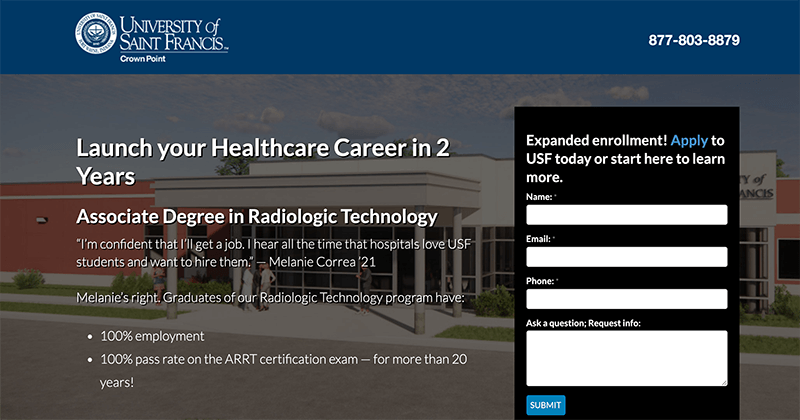 The accompanying landing page contains more from the student's perspective, along with messages of institutional success (100% employment and pass rate).
Contact us to learn more or to help with your school's recruitment marketing.