The Value of Research in a Digital Search Campaign
Jan 14, 2016
Laura Sheehan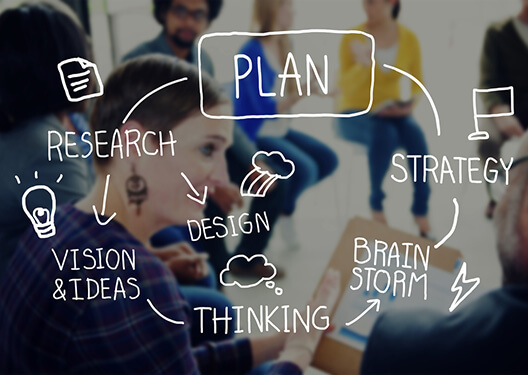 Last fall, we were hired by a state university to conduct a digital search campaign centered on 24 academic programs. The campaign launched November 5 and will run for 4 months. Because this was a new client, we had no insight into the university's programs and culture — so we started with the essential: Research.
We needed to learn (quickly) about the university, it's ideal student, and each of the 24 majors. The best way? A 4-day visit to campus where we could see campus life firsthand, as well as meet with faculty members and connect to students and alumni.
In-depth research is a critical, and often overlooked component, to digital search — and it works on two levels:
The audience: who they are, where they are, and what grabs their attention
The product: what are we selling and what makes it stand apart
The Audience
Because this campaign includes undergraduate and graduate programs, it overlaps 2 generations (Millenials & Gen Z), both of which are savvy (especially when it comes to digital marketing). Research (like the 2015 E-Expectations Report by Ruffalo Noel Levitz) tells us where and how students research colleges.
Tip: The social media platforms they use most in their personal lives are not necessarily the ones they use for college search.
Other sources of demographic research offer insight into what gets their attention and what entices a response.
Tip: Authenticity of message is critical, as are testimonials from peers, graduate school placements, and other outcomes of success.
The Product
Research was essential in selling the 24 majors. We needed to decipher what makes each program stand apart and then sell it in a way that catches the target audience's attention.
Guided by what we know about the audience, we focused on
Key selling points: A specialized lab, study abroad component, internship access, etc. Every program has several highlights and the faculty know them best.
Incentives to address concerns of cost/value: Special scholarships, assistantships, paid internships, bachelor's-to-master's options, etc.
Statistics of success: Pass rates on professional exams/licensure, alumni employment success, etc.
Professional mentorship/networking: Leading faculty and access to industry expertise
Stories of personal success: Testimonials from current students and alumni who are working in the field provide the authentic connection that this audience expects. They will listen to their peers far more than they will listen to an institution's attempt to sell.
The only way to achieve all this: personal interviews. For each of the 24 programs, we interviewed 1 faculty member and at least 2 current students and 2 successful alumni. Time consuming? Of course, but worth it as it gave us honest insight and authentic stories of success.