Part III: How an Enrollment-driven Website Can Serve Higher Ed Recruitment
Jul 14, 2016
Laura Sheehan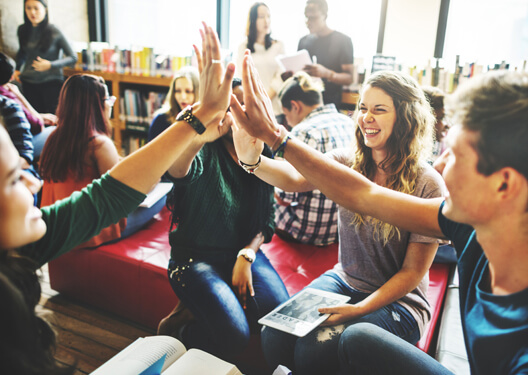 Welcome to Part III of Calculate's 3-part series investigating the enrollment capacity of higher education websites, with a focus on creating a college or university site that:
Serves the needs of prospective students
Shares institutional selling points and success
Converts users from prospects to applicants, moving them into the admissions funnel
In Part I, we:
Defined the function and capacity of an enrollment-driven website
Presented research on how today's students use websites to assess the value of an institution
Reviewed the current state of higher education websites
In Part II, we:
Analyzed the top 3 components of an enrollment-driven website:
Strategy
Architecture and Navigation
Content
---
Step 4 (of 7): Design
This is where many institutions get it wrong, by utilizing a "design-first approach." Yes, design is critical, but it should support the strategy and content, not dictate it. Strategy, architecture/navigation, and content come first. They provide the site's foundation, which actually makes for a more cost-effective website. How? If those key elements are in place and the site is recruiting effectively, then upgrades to design (which happen every few years) are modest in cost. Rather than "re-doing" the entire website (or worse, re-designing the same disorganized site over and over), the institution only upgrades the look.
That being said, design holds great importance in terms of function and psychology. Of course, the website needs to be mobile friendly (70% of college-bound students view college websites on a mobile device). Additionally, design should meet the ways in which users scroll and interact with the site. Heat maps and other analytical tools show how users browse, scroll, and click. This data should inform the placement of key functions.
More and more, today's students respond to visual storytelling which comes in the forms of images (real, not staged), short videos, and visual graphics that are easy to see and use.
Step 5: Programming
This one is easy: Programming is a commodity service that requires a particular expertise. A professional programmer will implement SEO tactics within the programming that will optimize the site's search ranking. Additionally, a professional programmer's UX (user experience) and UI (user interface) expertise provides knowledge and understanding of the user's experience that translates into customer satisfaction.
Step 6: Content Management
The Content Management System (CMS) is simply the online software that helps you manage your website. Like design, CMS is often misunderstood in higher education and given too prominent a role. For an enrollment-driven website, the CMS is a tool that supports the site's overall strategy. Again, strategy, architecture/navigation , and content come first.
Of course, the CMS needs to be reliable and intuitive (as many, if not most, are) — as well as affordable. Costs have come down considerably in recent years with open source options.
I know of one university that moved from a large CMS company to an open source option as they launched an enrollment-driven website. That move alone saved nearly $40,000 from the annual budget. Even better: In the site's first weekend using the open-source solution, the university saw a four-fold increase in conversions, proving that strong foundational elements matter most.
Step 7: Content & Design Oversight
Oversight needs to be steadily maintained or the website will quickly degrade. Degradation typically occurs in a decentralized model, where different divisions or departments oversee their web sections. As good intentioned as these employees may be, they often lack the marketing expertise needed to maintain the site's integrity. Before long, it loses its enrollment focus as the following takes place:
Subpar content is added; this text is not professionally written, is not web-friendly (too lengthy) or SEO-optimized, and does not include strategic CTAs for conversion
Proper styling is not applied to enhance how users read (scan) the text
Typos and grammatical errors are introduced, and links break over time
Outdated content remains on site (e.g. an old blog or past event) leading to dead links
Poor quality images are added, including large files, which affect download speed
Poor layout decisions are made (e.g., red text for non-emergency announcements, centering text when styles call for left-justification, calls to action not prominent, etc.)
Built-in styles are not used (H1, H2 headlines) jeopardizing the site's search ranking
A centralized model offers the best solution. Having a marketing professional serve as editor of all content and design guarantees the site's enrollment success. Academic departments and divisions still have ownership of their web sections, but the editor approves (or revises) updated content to preserve the site's function.
What's Next
So there it is, 7 steps to creating an enrollment-driven website. No doubt you now want to know the following:
How to transition your current site to one that functions for enrollment
What an enrollment-driven website will yield
Tips on Transitioning to an Enrollment-Driven Website
While "transitioning" a website from one form to another is less than ideal, we recognize the reality of budgetary restrictions. An enrollment-driven website works best when it is created from the ground up, usually at the time an institution decides to "re-design" the site as a whole.
In other instances, we've worked with institutions on their site's strategy, navigation, and content — essentially building the 3 foundational elements, while their team handled design, programming, content management, and oversight. Each institution has different needs, strengths, and resources.
Having been through this process as marketing/enrollment staff members and as contracted vendors, we offer the following tips:
Start with an analysis of your current site, preferably from someone who knows the strategies of an enrollment-driven website.
Identify a point person (or a small team) to oversee the transition — either from your staff or outsourced. Be sure they are adept in marketing, digital strategies, and higher education recruitment.
Once you have approval from your president (or administration), be prepared to use it (gently). Change is tough and this transition may ruffle the feathers of those who are used to having full control of their website sections. Work to include them throughout the process (while sticking to the goal) and remind them that this is an institutional decision.
Share the goal and key strategies of the new site with the entire community, ideally in a community meeting. This brings people together and provides them with an understanding of the site's function. Ask them to think about their respective areas and the ways in which they interact with prospective students.
Meet with all content owners to hear their concerns and key selling points. If they resist change, consider showing them "living data" of the current site, e.g., heat maps and other tools that show website traffic. We quickly learned that many section owners thought their pages were far more successful than the data revealed.
Push the value of the intranet to remind colleagues that their content is not going away for good. The external site focuses on selling the institution; the internal site houses all the content a student will need to function after he/she enrolls.
Finally, remind your colleagues that when this will ultimately make life better: not only will the website generate high-yield prospects daily, but it will eliminate the need to do a major overhaul every few years as it will only require modest updates.
Yield
I wish I could say this was the magic bullet, but of course it is not. It is however, the most effective thing you can do for enrollment — simply because it serves the needs and expectations of prospective students. Again, this generation functions differently: they research and shop online and it is intuitive to them. Most other industries have adapted to these behaviors, but higher education lags. The institutions that leads in this inevitable transition will see results.
As soon as an enrollment-driven website is up and running, you will see results. Prospects will complete forms (because they are highly targeted), which will flow into your admissions funnel. Your institution will come up in a prospects' search (because of the SEO content). How many of these leads turn into applicants and accepts? Much of that depends on your enrollment team and their tactics. An enrollment-driven website will definitely bring in leads (good ones, because they are targeted to fit the institution), but the admissions staff needs to convert them.
Calculate is a relatively new company, but we bring a collective 38 years of higher education and marketing experience. Our website strategies were developed over time and launched at an institution where we worked as team members. That particular website (our first for enrollment) yielded the following during its first full recruitment cycle:
5,600 engagement forms (high-yield prospects); of the 5,600, 54% either enrolled, deposited, were admitted or accepted
Attracted 37% of ALL applicants (via engagement forms)
36% of all graduate students cited the website forms as their primary recruitment source
First-year enrollment increased by 42%
We also know that more is required than the website. That particular university also launched a new branding campaign and invested in TV, billboards, bus wraps and more. The best enrollment comes from a blend of traditional marketing with newer, inbound strategies. Having a strong (and authentic) brand message is key, as is knowing the behaviors of your ideal audience (for example, knowing what tv shows they watch and promoting during that time slot). More than anything, we need to listen what the students themselves tell us on how and where they search for (and assess) colleges.
Final thought: Feel free to contact us if you have any questions or want more information. We are all in this together!