The 2016 Internet Trends Report: 4 Takeaways for Higher Ed Recruitment
Jun 16, 2016
Laura Sheehan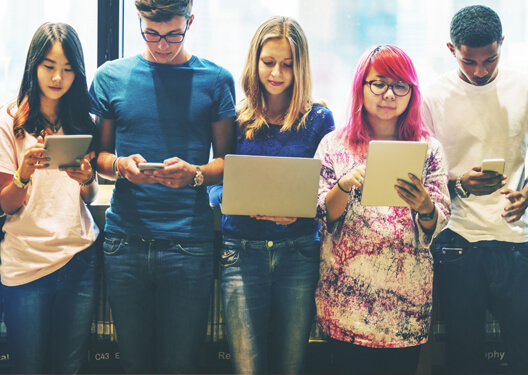 Mary Meeker's 2016 Internet Trends report, delivered June 1 at Silicon Valley's Code Conference, did not disappoint followers of her much-anticipated perspective. Rich with data, the report dove deep into the online behaviors and trends that affect the global market.
Although some of what Meeker reports goes beyond my area of expertise (e.g., the transportation industry, internet traction in China) the following trends stood out for their applicability to higher education recruitment:
1. Globally, the number of new internet users and the number of new smartphone users are both slowing down after years of growth. This is due to market saturation in developed, affluent countries (meaning nearly everyone is already online and most use a mobile device). What does this mean to enrollment professionals?
Digital, online marketing is no longer "the latest trend." It is standard. If your institution is not marketing itself on digital platforms, it's missing its audience.
Mobile is the norm and your website not only needs to be mobile-friendly, but it should function accordingly (mobile app, etc.).
2. Online advertising in the U.S. is growing, following a stagnant period. Facebook and Google reign supreme with 76% of internet advertising growth. What this means to higher education:
Digital marketing is as standard to today's student base as TV, print, and radio was a generation ago.
At a minimum, market on Google and Facebook. Beyond Meeker's report, research on how prospective students search for and assess colleges also show Google and Facebook to be top platforms.
The report cites growth opportunities for "internet enabled products and brands" via online marketing. How does that translate for colleges and universities? Focus on making your marketing "internet enabled." Develop your key messages (selling points, value proposition, etc.) for the online world. Follow the practices that have proven successful for other industries: targeting; use of images; personalization.
3. Uh-oh, ad blocking software is also on the rise. Consumers have less and less patience with intrusive or predictable ads. Most — 81% — mute the audio on a video ad. But the good news is, they tell us what types of ads work — those that are:
Visually enticing
Authentic
Entertaining
Emotional
Personal or relatable
Useful
This is a marketer's dream — especially in higher education, where individual success stories are in abundance. Let this be a "call of arms" for the industry to lead in the development of high-quality ads that inspire conversion. And don't be afraid to incorporate some humor every once in a while. It's a great human motivator and makes for memorable ads that users just may share.
4. A Few Final Big Picture Thoughts : Our two primary recruitment audiences (Millenials and Gen Z) function in a world where retailers come to them. They expect to shop for everything online — at least as a starting point. All products and brands must function as "in-home retailers," including higher education.
One of Meeker's key trends is the loss experienced by companies who fail to move from being a physical retailer to a digital retailer. The colleges and universities that build a vibrant online marketing presence — in tandem with high-yield traditional marketing strategies — will step ahead simply by getting their message in front of the ideal audience.