A Happy Enrollment Story in Unprecedented Times
Jun 9, 2020
Laura Sheehan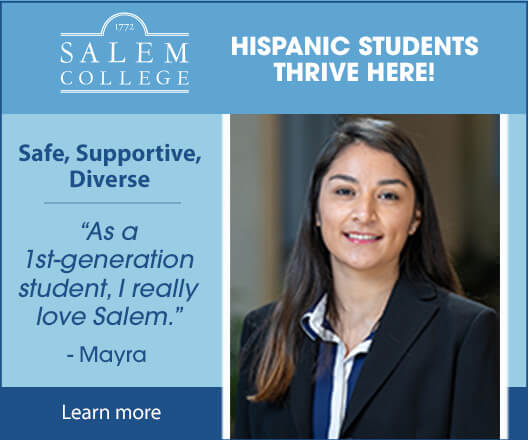 May 1 came and went quietly, reiterating the fact that nothing is typical about the current admissions cycle. The impact of Covid-19 remains to be seen and there have been few positive enrollment reports — so, here's one we're happy to share and happy to have been part of.
When Salem College (a small women's college in NC) started the academic year, it had 2 major problems: it was on financial probation and, like many private institutions, it was struggling with enrollment.
Today, Salem is in an entirely different position. Probation was lifted in December, due in part to a substantial increase in admissions applications. As of May 1, undergraduate enrollment was up 16% and the discount rate was down by 11%.
How did Salem College overcome such extreme circumstances? Teamwork. Under the leadership of President Sandra Doran, Interim Vice President for Enrollment Management Joel Wincowski (both appointed via The Registry), and Audrey Phillips, assistant vice president of admissions, the College hired Bret Stern Productions (for video content and graphic design) and Calculate (we wrote content for the recruitment publications and oversaw several digital recruitment campaigns).
The team assembled in 2018 to launch a new brand, Salem Today. Messaging centered on student/alumnae success, along with the Salem Promise scholarship program. Enrollment grew steadily and in 2019, Salem increased net revenue for first-time undergraduate enrollment by 100%. This year's enrollment increase (16%) was up 39% over the prior year.
There are many factors that contributed to this success, but the underlying element is Joel Wincowski. As a Registry consultant, Wincowski went 4 for 4 this year, raising enrollment at each institution he worked for (University of Alabama, Christian Brothers University, and East Tennessee State University).
Here's a closer look at 2 digital recruitment campaigns we did with Salem College — one ran for 10 weeks in the summer of 2019 and the other for 10 weeks in the winter/spring of 2020. Both campaigns featured storytelling content (based on interviews with students and alumnae), along with dedicated landing pages.
Platforms included
Social: Facebook & Instagram
Search: Google Ads
Programmatic (Fall campaign only): Banner ads on thousands of websites, apps, etc.
Results
Conversions: 207 completed forms; 98 phone calls
Clicks: 14,658 targeted prospects were inspired to click on an ad
Reach: 355,482 unique Facebook & Instagram users
Impressions: 2,700,586
Cost per click: $1.83
These are unprecedented times for sure and colleges and universities throughout the country are feeling the impact the pandemic, lockdowns, and uncertainties are having on their enrollment goals. However, with the right mix of messaging, targeting, and expertise in place, there is opportunity to rise above your competition and reach (or even exceed) those expectations.
Contact us to learn more.